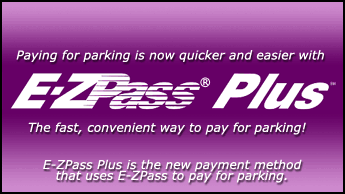 E-ZPass® Plus is the new payment method that uses E-ZPass to pay for parking.
Newark Liberty International Airport, Newark, NJ
LaGuardia Airport, NY, NY
JFK International Airport, NY, NY
Albany International Airport, Albany, NY
Atlantic City International Airport, Atlantic City, NJ

New York Avenue Parking Garage, Atlantic City, NJ
Atlantic Avenue Surface Lot, Atlantic City, NJ
Great New York State Fair, Syracuse, NY (seasonal)
Syracuse Hancock International Airport, Syracuse, NY

Your account will be debited for the parking fee if the fee is less than $20. Parking Fees greater than $20 will be charged directly to the credit card used to replenish your account. Airport parking transactions will appear on your E-ZPass® statement.
To be eligible for E-ZPass® Plus you need to replenish your E-ZPass® account with a credit card.
To sign up for E-ZPass®, click Sign Up Now!.